Friday, April 14, 2023 04:00PM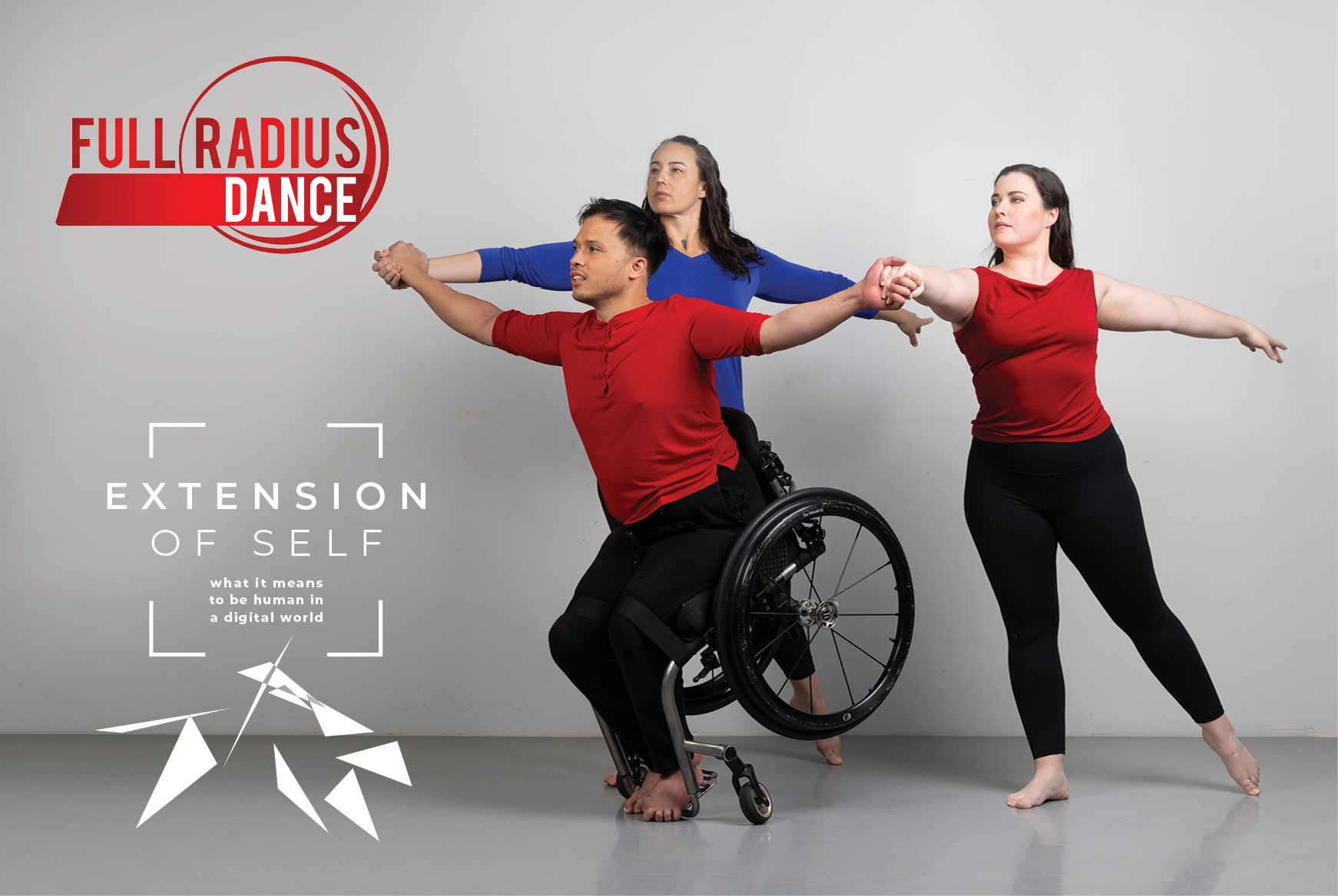 On Friday, April 14, Georgia Tech Arts is pleased to present, Extension of Self: A dance between human and digital, a physically integrated movement workshop and film screening with Full Radius Dance. The dancers will be performing in response to the exhibit, Extension of Self: What it means to be human in a digital world, which features six Atlanta artists and researchers working at the innovative intersection of art, science, technology, and accessibility. Personal identities are complex and full of multiplicities. During the performance all artists and dancers question the role that digital technology plays in our lives, while integrating it into their work to create interactive and expressive art.
Full Radius Dance is a physically integrated dance company based in Atlanta. The company is committed to redefining the boundaries of dance through performance, education, and advocacy, and constantly seeks opportunities to promote its core values for body positivity. Full Radius Dance believes that your body is perfect, has undiscovered movement, and can experience dance. Choreographer Douglas Scott leads a team of eight dancers, AK Bayer, Vic Davis, Jr., Julianna Feracota, Jodie Jernigan, Courtney Michelle McClendon, Ashlee Jo Ramsey-Borunov, Matthew Smith, and Peter L. Trojic in Extension of Self: A dance between human and digital. Chanell Angeli, Eve Brown, Emma Chammah, Ashutosh Dhekne, Bojana Ginn, and Noura Howell are the artists that were featured in the exhibit Extension of Self: What it means to be human in a digital world, that was held last year, curated by Birney Robert. Scott will also lead a movement workshop where anyone can participate prior to the film screening on Friday, April 14.
The workshop and film screening are part of GT Arts Tech Arts Festival. This year, Georgia Tech Arts has reached out to alumna and choreographer Raianna Brown to assist in creating meaningful experiences for students as they head into the end of the spring semester. 
Through performances, installations, and so many other opportunities for creative expression, the Tech Arts Festival aims to highlight how the intersection of arts and technology can create moments of joy and well-being across campus. 
We are excited to collaborate with Videographer, Kevin Beasley; Photographer, Terence Rushin; and Interim Director of Tech Arts, Nathalie Matychak; Graphic Designer, LaDonna Cherry; and Web Developer, Eric Sembrat for this production.
Event Agenda:
4 - 5:15 p.m. Physically Integrated Movement Workshop
5:30 - 6 p.m. Film Screening
6 - 7 p.m. Open discussion from the choreographer, dancers, artists, and film crew
Location: Georgia Tech's Ferst Center Plaza and Lobby
Light Refreshments Served