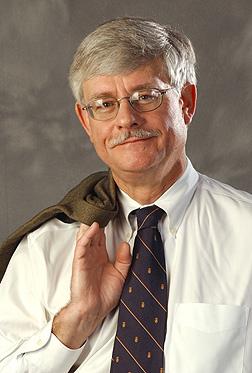 McEver Professor of Engineering and the Liberal Arts, Ivan Allen College of Liberal Arts
Biography
Kenneth J. Knoespel is McEver Professor of Engineering and the Liberal Arts at Georgia Tech and Professor in the School of Literature, Communication & Culture. He has a joint-appointment with the School of History, Technology & Society and an adjunct appointment in the College of Architecture.
Knoespel has published widely visualization and science studies in early modern Europe. Research on Isaac Newton's manuscripts devoted to universal history, religion, and alchemy are an important focal point in his research. In addition to his work on changing practices of interpretation within the natural and human sciences, his recent work engages cognition and visual practice in mathematics and architecture.
During the past five years, he has taught a graduate seminar in the College of Architecture with John Peponis, devoted to the "The Spatial Construction of Meaning." Work from the seminar has been presented in Greece, Italy, France, England, Denmark and Sweden. He has recently edited a collection of essays on Diagrams and the Anthropology of Space.
He has also worked closely with universities in Europe and Russia and is currently completing a project on the interaction of science and technology over the Baltic Sea.
At Georgia Tech, he has participated in the development of interdisciplinary education including the undergraduate B.S. in Science, Technology, and Culture (STAC), the B.S. in Computational Media (CM) and graduate programs in Digital Media (DM).
He is one of the founding editors of Configurations: A Journal for Literature, Science, and Technology, published by Johns Hopkins University Press.
He has held research appointments at the University of Uppsala, Blekinge Tekniska Högskola, Cornell University, the Hebrew University of Jerusalem, and at he Russian Academy of Science. Knoespel received his Ph.D in Comparative Literature from the University of Chicago and his undergraduate degree from the University of Wisconsin-Madison.
Education
Ph.D. 1982 University of Chicago M.A. 1975 University of Chicago B.A. 1969 University of Wisconsin